Memoirs of Longhope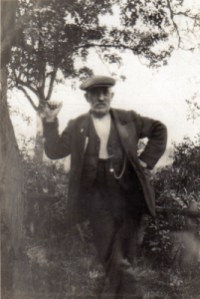 Photograph used with permission [1].
The memoirs of Arthur Bullock, a former resident of the village, are being published in book form. Arthur had a fond fascination of history and experienced first-hand the trenches of World War One. The book entitled "Gloucestershire Between the Wars: A Memoir" is being launched at Chapter House, Gloucester Cathederal on Saturday 7th. March 2009 between 3:00 and 4:30pm.
An extract from the book describes life in Longhope in about 1910
"There were many occupations - building, hurdle-making, wheelwrighting, manufacture of farm waggons and traps and of course farming. This was generally mixed farming, with each farmer having horses, cows, sheep, pigs, poultry and orchards with a little arable land, pasture and hay fields. Many people grew apples and pears and made cider and perry, but the great fruit crop was plums. Longhope and the surrounding parishes grew thousands of tons of a plum which had been developed locally and which took its name from the adjacent parish of Blaisdon. Most of these plums went from Longhope by special goods train to the industrial towns of the North. A nearby parish of Dymock gave its name to another plum and the parish of Blakeney also gave its name to Blakeney Red Pears from which the perry was made, the trees of which sometimes reached a height of over 100 feet." [1]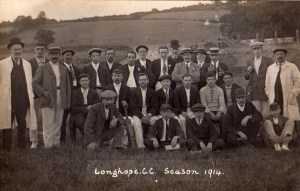 Photograph used with permission [1].
George Bullock (pictured left), the author's father, got his priorities right. He was a football referee, cricket umpire, parish councillor, custodian of the trees on May Hill, and played the double bass (tuba) in the Mitcheldean Brass Band. As a day job he made wooden hay rakes (and was once featured for this in the Illustrated London News). Of his six children, the one who lived longest was Floss, who died aged 105.
Longhope cricket club (pictured right), 1914, with George Bullock on the right and Arthur in front (holding a sheet of paper).
If you would like to attend the launch please contact Rachel at rahbeckett@googlemail.com or on 01453 544051.
References
Bullock, A., "Gloucestershire Between the Wars: A Memoir" The History Press, 2009. Launch at Gloucester Cathederal, Chapter House, 7th. March 3:00-4:30pm