Longhope Lifeboat Disaster - 40 Years Ago
Today marks the 40th anniversary of one of Britain's worst lifeboat disasters. You may ask what that has to do with Longhope - being miles from the sea? Well, our village's namesake, Longhope in the Orkneys, suffered so badly when, on the night of Monday the 17th March, 1969, the Longhope lifeboat, the "TGB", put out in heavy seas to go to the rescue of the 2000 tonne Liberian cargo ship, "Irene". The "Irene" had radioed that she was out of control and drifting in the Pentland Firth, in a force nine gale that had been buffeting the Orkneys for several days. The Pentland Firth, between the north coast of Scotland and the Orkneys, is Britain's most dangerous coastal area, with enormous 60-foot high waves and tides and currents flowing at pace, and gusts of wind at over 100mph.
At 9-30 that night, in worsening weather, the eight man crew of the lifeboat received a radio message from Wick,and was also seen by the keepers of the Skerries lighthouse. After that there was silence and the "TGB" was never heard of again. The next day, a search by helicopters, planes and ships took place, and the upturned lifeboat was found near South Ronaldsay by the Thurso lifeboat. In that one tragic night, the small township of Brims in Longhope, with only a population of 30 had lost a quarter of them, with seven women widowed and ten children left fatherless. Two of those women had lost both a husband and a son.
Ironically, the drifting cargo ship ran aground on the rocks at South Ronaldsay and the crew were rescued by coastguards there. In a report later issued by the Liberian Government into the disaster, it was claimed that the ship had run out of fuel only two days after leaving port, and the ship's officers had no idea where they were!
The impact that the disaster had on such a small isolated community touched the nation, and was illustrated when an appeal fund for the families topped over £100,000 in just a few weeks. Our village did its bit too and rallied round raising money for the families, as well as sending toys and clothes for the children.
The village now has a brand new, state-of-the-art lifeboat, "Helen Comrie", said to be unsinkable. Ever since that sad night, our two villages have been linked together. If you go to Longhope on Orkney and say where you are from, you are assured of a very warm welcome indeed, even 40 years on. We still remember.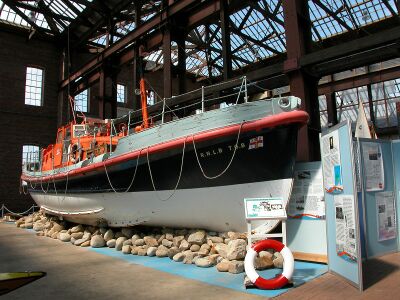 The ill-fated lifeboat, "TGB" now preserved at the Scottish Maritime Museum at Irvine.
With thanks to www.undiscoveredscotland.co.uk for the use of their photograph
Related Information
Read more about the story on "The Orcadian" newspaper website here

View television footage of that night on "STV" here