Residents Rebel and Latest Rec Update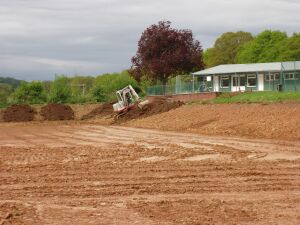 Residents of Longhope have expressed concerns in the local paper (The Citizen, 23rd May 2009) about the improvements made to the Recreation Ground recently. They argue that the steep bank created at the top end of the ground (pictured) is a hazard for small children, and that it may exclude elderly residents and those less able from certain areas.
The Recreation Ground was originally bought as a war memorial after the end of the Second World War for the grand sum of £600, money that was collected from the villagers, of which the total amounted to £2,600 so that "it could be used by the villagers forever". A further £600 was spent on building the then pavilion.
We first reported that the Recreation Grounds were due to be levelled as part of the Millenium celebrations back in 2000 (although the original article has been lost). Since then, a consultation occured a few years ago of which plans for the proposed developments were displayed in the Pett's Post Office and the Latchen Rooms. In an article published in the June edition of "Forest Edge News", Mr Les Meadows writes that the work was needed to provide a flat playing surface for all sports, and became a serious thought when our local football team became aware that any improvement in league status would remain a dream until ground improvements had been carried out. Now that the work is almost complete, Mr Meadows would like to talk to any families who may wish to consider a seat in memory of a loved one being placed in the Rec.
So that everyone knows of the next project (you read it here first), it is to update the Pavilion to enable it to be hired out for parties etc, so get booking folks!
Latest Rec Update - 1/6/09
Over the last few days the Rec has been dug up again in places to put in some more drainage channels of gravel. This is because after the heavy rain and storms that we had a few weeks ago, it was noticed that the area of the Rec just below the tennis courts had flooded and was holding water, and the ground was very boggy. As may be seen from the latest photos, the Rec once more looked like a ploughed field although there were signs in places that the grass seed was starting to germinate. After the drainage was sorted, the tractor had to start all over again levelling the soil to a fine tilth, and re-sowing more seed. This went on until 10-00pm at night, which must have pleased the nearby residents! All we need now is some much needed rain to dampen the very dry soil - but there is none forecast just yet. Anyone know a rain dance?
Feel free to leave your comments below.