More Snow Chaos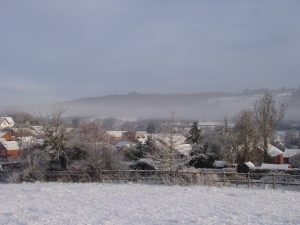 Longhope had yet more snow in the early hours of this morning, with a little more than an inch falling. Main roads were well gritted so there wasn't much disruption to most people's travel plans for last minute Christmas shopping, but it seemed most people heeded the warning of the police and weathermen to stay at home, with the threat of being stranded in Gloucester after more snowfalls!!
It would seem that Longhope got off very lightly, as the rest of Great Britain was once more disrupted by very heavy snowfalls. We got off lightly as neighbouring counties were badly hit. South Wales had up to six inches (15cms) in places, even in the main coastal cities. Even in Worcestershire the motorways were blocked by jack-knifed lorries causing 20 mile tailbacks and motorists spending the night in their cars in sub-zero temperatures. In the Home Counties, the snowfall was so heavy in a matter of hours, that people were stranded on major roads. Gatwick and Heathrow airports were closed all day, ruining the plans of thousands to get away from the bad weather for Christmas.
The forecast for the coming week for Longhope is for more severe frosts at night (as low as -12C) and sub-zero daytime temperatures, but uncertainty about any more snowfall at present. This December has been recognized as the coldest on record for a century - well we don't need to be told do we? It certainly seems like being a white Christmas. Happy Christmas anyway and keep smiling, and if you are able, do your bit to try and keep the village moving.