Longhope 2 Longhope Challenge
In July 2012 Sue Smith and Ceri Watkins, (daughter of George and the late Eileen Watkins), will be tackling a journey from Longhope Gloucestershire to Longhope on Orkney. Sue will be hitching her panniers to cycle unsupported, a distance of approximately 750 miles in 11 days, while Ceri will be walking solo for approximately 500 miles (travelling by train in between) over 30 days. Here is their story:
Who are we and why are we doing this?
Ceri and I have been friends for almost 2 years; we first met when helping out at the Longhope Fete in 2010. It was only later, meeting again at Whitminster Canine Activity Training Club (dog agility), did we become firm friends. On one of our many trips back and forth to the agility club, Ceri told me about the Longhope lifeboat disaster in the Orkneys and the connection between the two villages. Ceri also mentioned her wish to walk from Longhope to Longhope in aid of the RNLI. However, she had never quite managed to arrange it as this would entail too much time taken off work etc. It was then that I suggested she do it on a bicycle instead and an idea started to form. Ceri started off borrowing a mountain bike from a friend Paul and getting some miles in the saddle but found that she didn't enjoy cycling at all. So she made the decision to walk the route after all, as she had also just left work and the opportunity for a longer time scale presented itself.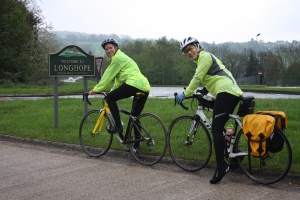 My training got off to an easier start due to me starting cycling three years ago when I took up triathlon. I have added longer rides to my existing plan to accustom my body (hopefully) to cope with the planned average of 60 miles per day in the saddle. Can I just add at this point, any car drivers reading this, who see a brightly clad figure on a bike with panniers, (they are bright yellow so you can't miss seeing me), please give me a wide berth as regular cycling is bad enough on today's busy roads but with the added hazard of the heavy panniers, can sometimes be treacherous - please be courteous and give me a wide berth!
All we had to do now was generate sponsorship ideas, buy a bike rack and panniers, plan two routes, arrange accommodation, organise transport to get home after the ride, develop a Justgiving page, a blog, a Twitter account, a Facebook page, and so on, not as easy as we first thought!
I knew a very nice man who had biked from Lands' End to John O'Groats who very kindly suggested a cycling route. Many thanks Bill! Ceri linked up a number of recognised walking trails in both England and Scotland to form the basis of her walk, using train travel in between the trails to save some time. We will meet up in Thurso in the Scottish Highlands and travel the last day together before venturing across the Pentland Firth into Orkney territory.
So, why are we doing this?
Longhope, Orkney houses a lifeboat station. The lifeboat from that station covers the Pentland Firth between the north coast of Scotland and the Orkneys and is one of Britain's most dangerous stretches of coastal water. On 17th March 1969, the Longhope lifeboat TGB put out in heavy seas to rescue the crew of a distressed Liberian cargo ship Irene. During the attempt, radio contact was lost and the TGB didn't return. The next day a search by helicopter, plane and ship commenced and she was found upturned near Ronaldsay. All eight crew were lost. Children from the local primary school here sent pictures, wrote letters and people collected clothes and food to send parcels, to aid loved ones, and the community of Longhope, Orkney. Maybe you remember doing this as a child at school? Ever since that terrible night the two villages have been linked.
In this the Jubilee and Olympic year, it feels appropriate for us to be doing something connected to sport in order to raise funds and awareness of a charitable organisation that perhaps, one day, we might need to call upon ourselves. Our target is to raise £3,500. To do this we need all the help and donations possible. We have set up a Justgiving page, www.justgiving.com/longhope2longhope and you can follow us on our blog Longhope2Longhope.wordpress.com or on Twitter: Glos2Orkney and Facebook. Although we have a blog, we have no objection to help improving it. If you could offer help with this please feel free to contact us at Longhope2Longhope@gmail.com. If you would like to give to this good cause but prefer not to do it through our Justgiving page, please see us at our stand at the Longhope village fete on 7th July, or give donations via the boxes that we have very kindly been allowed to place in the local shop and the Post Office in Longhope village.
Sue and Ceri
This website would like to wish Sue and Ceri all the luck in the world, and hope that this village will get behind them for what is a very good cause, and to continue to support our name-sake village. For more on the history of the Longhope Lifeboat Disaster click here.