Canadians Descend on Longhope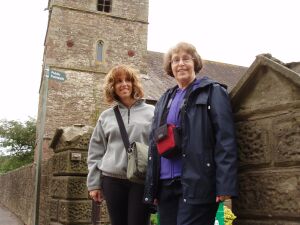 Longhope had visitors from Canada this week, thanks to the help of this website. Jean O'Brien and her daughter Joan (pictured left), both from British Columbia, were here to track down their ancestors. Jean's grandfather, Francis Thorneloe, emigrated to Canada in 1906 after being born and brought up in the village in the late 1800s. Her great-grandfather, also Francis, moved to the village in the 1850s from Tamworth in Staffordshire, and is buried in All Saints Churchyard along with his three wives.
Jean was doing some research into her family history on the internet and knew that her relations lived in Longhope at one point, from an old Will she had. So she typed in Longhope and she came up with this website of course! She made contact through the feedback page, asking for help in finding her great-grandfather's grave. We sent her all the information we had in our database and she decided she had to come over and see for herself where they used to live. In an email to the website Jean said, "I am really excited to be actually going to be able to walk in the village of my Grandfather's birth." From the details in the Will, she found that the family owned Wallbrook House (next to Shirley's shop) and Penwardine Villa (now Kenworthy, in Station Lane) at one time. Jean asked for help from the website and wondered whether anyone would be able to show them around the village and to locate the houses the family once owned. So one of our researchers was duly dispatched to meet them at The Farmer's Boy Inn, where they were staying, to take them on a tour of the village.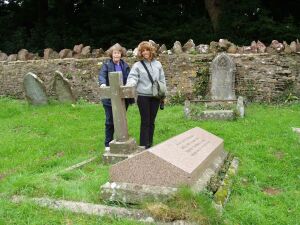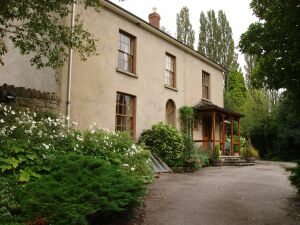 Jean and Joan visited the church and the family grave (pictured right) and took lots of photos. They then went to visit the old Church of England School in School Lane before moving on to Wallbrook House (pictured left). There they were delighted to be invited inside the house by the owner for a look round this really amazing property, which they both thought was beautiful. (The website would like to thank the owner for making this possible.) Joan said that she thought Longhope was a very peaceful, relaxing village in which to live.
The following few days were spent exploring parts of the county, and getting very wet! Did you ever buy those boots, Joan? We hope you both enjoyed your stay, and maybe you will come back again soon for a longer stay and better weather?