Musicals Return to Longhope Church
Back in September 2012 we asked the question – "How often do we get the chance to see stars from London's world famous West End performing on our doorstep?" The answer then was "probably never!" Well, just like a London bus if you miss one then another will be along shortly!!!
The Friends of Longhope Church, who hosted the first Movies and Musicals Night in September last year, have pulled off a coupe by securing the booking of the experienced West End trio Jayne O'Malony, John Langley and Musical Director, Andrew Sackett to bring the latest rendition of their Movies and Musicals Night to All Saints Church, Longhope on Saturday 27th April.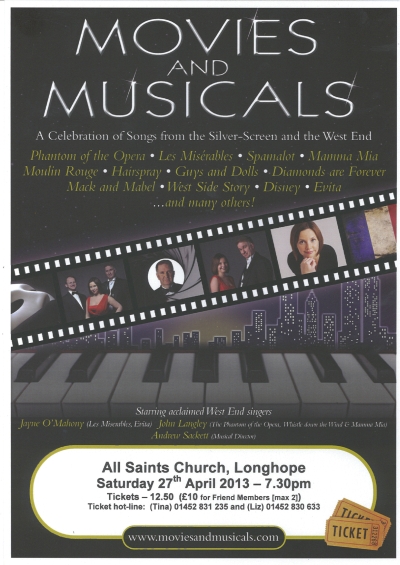 Both these acclaimed West End artistes, Jayne O'Malony and John Langley, bring with them tunes from such shows as Phantom of the Opera, West Side Story, Hairspray and Guys and Dolls to name but a few. Jayne has performed in both Evita and Les Miserables on the West End stage while John has such sensational musicals as Phantom of the Opera, Whistle Down The Wind and Mama Mia to his West End credits.
Musical Director, Andrew Sackett, said "To be returning to Longhope will be an absolute pleasure for us. I like to think of last year's performance as just the first act. The beauty of doing what we do is that we have an almost limitless play list to choose from. Obviously, we will still find room for the audience favourites and Tina Coull (one of the evenings organisers)said that she would only book us again if we guaranteed to include our 'Les Miserables' medley. As with all our shows, there will be something for everybody with a mix of up tempo pieces mixed with some more melancholy pieces."
Event organiser, Tina Coull, said "After the performance last year, with the cries of encore still ringing in our ears, we decided that if we got the opportunity to book the event again we would do". Little did the 'Friends' realise that such an opportunity would arise again so quickly!!! So, without a second thought, the booking was secured and the date set for Saturday 27th April 2013.
Tina added "So many people came up to me after the event to say how much they had enjoyed it and others, who had missed it, had heard what a fantastic evening it had been so the organising committee knew we had to do what we could to host a follow up to the Movies and Musicals evening.&qout; Last year's event was sold out and tickets for this latest edition of the West End 'revue' promise to be equally as sought after. The date of the show is Saturday 27th April 2013 at 7:30pm. For tickets call either Tina on (01452) 831235 or Liz on (01452) 830633. With limited seating available, it really is advisable to book your tickets in advance. Tickets are £12.50 (£10 to Friends of Longhope Church members) which will also include a glass of wine and nibbles. All proceeds will go to the 'Friends of Longhope Church'.