Longhope Hits the Big Screen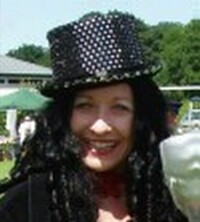 Our small village of Longhope is set to hit the big screen after a Cheltenham film crew spent several days over Easter shooting a new feature film here. The film, "Fur Meinen Vater" (For My Father) is said to be set in the Ardennes in France during World War Two, which was where Hitler launched his final offensive at the Battle of the Bulge in 1944. The film follows a German sniper ordered to kill a group of British soldiers, who suffers a crisis of conscience.
The film's director, Sam Copland, claims that Hopes Wood, in Longhope, was ideal for filming as it resembles the French forest area of the Ardennes. "The landscape is beautiful and varied, which makes it a great location." The British soldiers portrayed are all from the Gloucestershire Regiment.
One of the main characters in the film is our very own "local actress" Cathy Griffiths, (pictured on the right enjoying last year's fête), who some may recall played Avril, Tudor's long suffering wife in the recent L.A.D.S. production, "One O'clock from the House". Cathy plays the part of the sniper's wife.