Longhope Flood Plan
One of the important tasks currently facing the Parish Council is the formulation of a Flood Plan for Longhope and it was in that context that Parish and District Councillor Dave East initiated this meeting, to find out how local residents were thinking and feeling in the aftermath of the floods of July and January.
Some thirty or so local residents attended, many of whom had been directly affected by Hope Brook and its tributaries breaking their banks and by excess rain water draining off surrounding hills on both occasions. So it was no surprise that, when the time for the open forum came around, there was no shortage of thoughts and feelings from members of the audience to fulfil Cllr. East's objectives. However, he called upon the evening's guest speaker, Mr. Kevin Howarth, Land and Property Manager for the Forest of Dean District Council and, therefore, the person responsible for flood alleviation for the District, to set the scene for that open participation and to bring us up to date with the latest developments.
Mr. Howarth was able to tell the meeting what flood relief projects were currently in hand, including three in Longhope, namely The Orchards, the Church Road culvert and Mill Lane. He was also able to outline the prevailing priorities and constraints he was obliged to work with in allocating resources and deploying the manpower and expertise at his disposal, all of which were inevitably limited. It was also appropriate for him to remind the meeting that the first responsibility for maintaining and clearing watercourses lay with the "riparian" owners of property through which they run, and not the Parish's or District's. However, he was determined to strike a positive note and he did so by emphasising that, with the all-important co-operation and goodwill of local people, the more a community was prepared to help itself, the more he and his team would be able - and willing - to support it.
It was then time for the open forum and it wasn't long before Mr. Howarth's notion of the community helping itself was taken up and started gathering momentum. Voluntary working parties to carry out brook clearance was the first such proposal to be developed, with several members putting themselves forward to help. Enlisting "professional" help of people with specialist expertise was also suggested in order to ensure that any voluntary activity was wisely directed and effectively controlled which, according to Mr. Howarth, would not necessarily have to be by expensive consultants. Indeed, it was suggested that Mr. Howarth himself could provide some initial guidance if he was willing and, because he was, the idea of an open air meeting and "walkabout" to visit the perceived "hot spots" in the village was taken up and it was soon agreed that this should take place on the morning of Saturday 23rd. February.
In the meantime, it was agreed that, because the condition of Hope Brook was central to the long-term alleviation of flood risks in Longhope, a comprehensive survey of the brook was needed and to be done by someone with the specialist expertise referred to earlier. Cllr. Gill Pett, representing the Parish Council, assured the meeting that that the Council would be seriously considering this and all the other conclusions reached and would ensure that the momentum of this whole initiative would be maintained now that a major first step had been taken.
In conclusion, all interested parties were encouraged to join the open air meeting on 23rd. February and all those present, including representatives of the Parish, Disrict and County Councils, and especially Mr. Howarth, were thanked for their attendance and contributions to what had been a highly-successful and encouraging meeting.
Open Air Meeting, Walkabout and Follow-up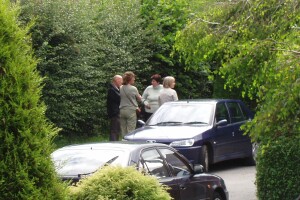 Kevin Howarth had been sufficiently impressed and encouraged by the meeting reported above that, with the Parish Council's blessing, he commissioned a report on the Longhope situation from civil engineering consultants, W. S. Atkins, at the District's expense. He was therefore accompanied by one of their consultants when he attended on 23rd. February, along with County Cllr. Steve McMillan and colleagues from the District Council. Most importantly, however, they were joined by several village residents who could talk from first-hand local knowledge, as well as Parish Councillors Gill Pett, Vicky Harper and Parish Clerk Roger Acland.
Led by Cllr. Gill Pett, the group set off from the rendezvous outside the Post Office on a route which took them up Station Lane to Fold Farm and Hobbs Lane, around to the brook under The Latchen by Pound House, through the estate to Brook End and the end of Napping Lane by Cameron's Meadow, along Church Road to the footbridge over Hope Brook at The Orchards, then onto Brook Lane and finally back down Church Road to the bridge by the school entrance, Tan House, Boundary House and the Recreation Ground. In each location mentioned, the group took time to examine and discuss the particular local issues involved and numerous notes and photographs were taken by the experts in the party.
Cllr. Gill Pett was able to report that Mrs. Val Whitworth, an experienced surveyor of water courses for the Environment Agency, had offered to carry out a detailed survey of Hope Brook as a voluntary contribution to the project and this news was enthusiastically greeted by Mr. Howarth, as well as hugely appreciated by Gill Pett and her colleagues. He was also delighted to learn that a committee was being formed to manage the overall project and that Richard Pett had volunteered to lead the brook clearing working party efforts. In his view, the way this iniative was taking shape epitomised the kind of community-led action he had referred to in his address to the initial meeting and he was happy to pledge his whole-hearted support for it.
We have since been told that our iniative has already been referred to as a potential "Beacon Project" in the District and, if that turns out to be the case, we should not go short of encouragement or help. So, our congratulations go to Cllr. East for setting up that first meeting that set the ball rolling.
If you would like to actively paticipate in this project, in any capacity, please contact one of the following either Gill Pett, Richard Pett or Roger Acland.