The Longhope Feast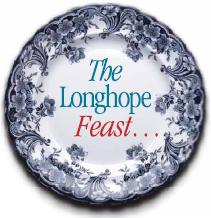 Venue:
The Latchen Rooms, Longhope
Date:
Saturday 20th October 2007
Time:
7:00pm - 11:30pm
Bar available 7:00pm - 11:00pm
To celebrate the success of our local cook book, the Longhope Cook Book, a grand feast is to be held on Saturday 20th October 2007 in the Latchen Rooms, Longhope. Vicky Harper, the author of the cook book, would like to thank all those who contributed to the book and, indeed, everyone who kindly bought a copy and, of course, Dave Thorp.
The Cook Book continues to sell well and is available from the Post Office, Fairview Nurseries, Huntley Garden Centre, The Old Dairy Tearoom, Harts Barn, Pets Bran Veterinary Centre, Kevin's Butchers, Wharfhouse Restaurant and via the feedback page. The money raised from the cook book so far has been used by the Latchen Room Management and Development Committee to, appropriately, buy a new cooker for the Latchen Room's kitchen, which is a vast improvement.
Tickets for the three course meal will cost £15 per person and includes a complimentary glass of punch and entertainment, including music from Silva. Menus and tickets are available from the Post Office, Les Meadows, Margaret Willis, Vicky Harper and via the Feedback page.
Hope to see you there!