Geo Sandoe Cup Final
Longhope 2 - 2 Broadwell

Man of the match

(After Extra Time)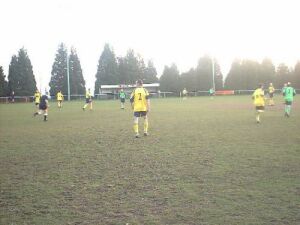 If, after 85 minutes of this game, you had said that Longhope were still in with a chance of winning, you would probably have been taken from the ground in a straitjacket and would spend the rest of the night in a padded cell. Longhope were two goals down and had barely registered a shot at goal, when suddenly they scored two goals in the final five minutes to force extra time.
Broadwell play two leagues above Longhope, but you couldn't tell which side was in Division One and which was in Division Three from the start that both sides made. Neither could force a way through the other's defence, with the Broadwell attack being caught offside on many occasions. However, Broadwell had started the better side and deservedly, if slightly fortuitously, went in front. Referee Keith Clarke of Gloucester punished Longhope for an extremely dubious handball, and Broadwell went 1-0 up front the resulting free-kick. Worse was to come as Broadwell scored a second goal ten minutes before half time. Longhope gave away another free-kick in a dangerous position, and after a goalmouth scramble the ball was forced home from fifteen yards with a bobbling shot. Longhope looked dangerous going forward,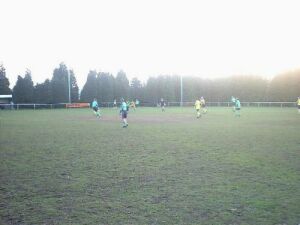 especially through Chris Townsend, but could not get a shot in on goal. Half time came with a scoreline of 2-0.
The second half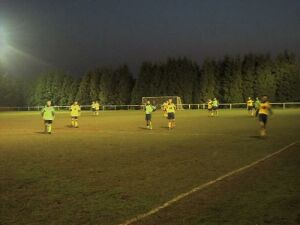 started in much the same way as the first, with neither side threatening the other's goal. As in the first half, any chances created came from Broadwell, but they could not find a third goal which would have killed the game off. Goalkeeper Tony Poole did well to clear a header off a corner, and a Broadwell player hit a 20-yard volley narrowly over. Substitute Simon Williams did well to block a header as Broadwell attacked again. Around this point, a rabbit came from nowhere and ran across the pitch. To the amusement of the crowd, the referee showed the rabbit the red card, which was about the only thing he got right all evening. He blew for a foul virtually every time two players made contact with each other, especially when a Broadwell player was on the receiving end. Going into the last five minutes, the only shot Longhope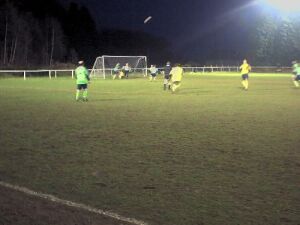 had had was when Wayne Clark fired over from 30 yards, when they got a goal back. Simon Williams played a great ball down the line for Jimmy Woodward to run on to. His cross was met by the head of Tracey Clark, who scored to make it 2-1. Minutes later, from virtually the same spot on the pitch, Chris Gooch scored with another header to equalise and force extra time.
This time, Longhope started more strongly and had a chance to take the lead when Simon Williams hit a shot from 35 yards that was going into the bottom corner, but Broadwell's keeper made a great full-length save. Broadwell had other chances to win it, since right at the death one of their players blazed over from six yards.
The replay shall be on Saturday 13th April 2002.