Partial Solar Eclipse
Today's partial eclipse of the sun was able to be viewed from Longhope and the surrounding area, unlike some other parts of Great Britain that were covered in cloud. The eclipse saw an 85% covering of the sun in our region that commenced around 8.30am with the maximum cover at 9.25am. The website went to May Hill to view this event, the first since the total eclipse in August, 1999. It was a cold and frosty morning initially, but warmed up for a while in the sun, until around 9.15am, when it turned very cold as the darkness crept over the Hill. The birds fell silent as they all headed to the trees to roost. It wasn't particularly dark, more like a wintry gloom, or the darkness of a stormy day. We were hoping to see the dark shadow approaching from the Severn estuary, but we were disappointed by the low-lying fog across Gloucester. There were quite a few people on May Hill, and some had even camped amongst the trees. Some had the special safety glasses, one had a welder's face mask, and others were trying out their science knowledge using pinhole cameras, and binoculars and colanders, while others just stood bemused by it all! As the maximum cover passed, a large bank of cloud rolled in from the east to obliterate the sun for a time, turning it very cold and windy, but it at least didn't spoil the enjoyment of being able to view the eclipse.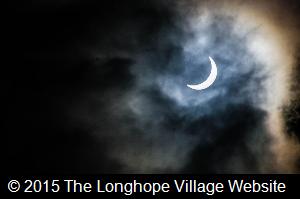 We wish to thank William Henderson Photography of Ross-on-Wye for his wonderful photograph of the partial eclipse, as viewed from May Hill. He was about the only photographer to have all the correct, and expensive gear for getting the best results.